WE TAKE CARE OF THE TECHY STUFF
Relax knowing our WordPress Support Experts Take Care of All Your Software, Plugin/Theme Updates, Site Maintenance, Security and Backups...
QUIT WASTING YOUR VALUABLE TIME
Do You Spend Way Too Much Money Or Time Trying to Get WordPress To Do What They Want…. Now you have a WordPress expert available to do any small job, tweak or fix you want done on your site - when you want it done,
Our affordable WordPress Support and Maintenance Package keeps your Blog FAST, SAFE, SECURE and always UP TO DATE!
A WORDPRESS MARKETING PRO GETS YOUR SITE SETUP TO SELL ONLINE
Your Site Will Be Running the Best WordPress Shopping Carts, Membership Site Plugins and Autoresponder Solutions to Start Generating Real Revenues today!
We Take The Stress Out of WordPress
Done For You WordPress Services
HERE'S HOW IT WORKS
Here's what happens when you have unlimited WordPress Help and Blog Support
You Ask For Any Small Job Done To Your Site

You can Call, Chat or Open a Ticket with the details of any WordPress Small Job, Marketing Project, fix or tweak that what you want done…

We Take Care of Your Site and Do It For You

We take care of all the techy WordPress Stuff in the background and complete the Small Jobs, Tweaks, Fixes and Marketing Integrations you give us…

You Spend Time With Customers and Earn More $$

You can relax and get back to doing what you love and get paid for – taking care of your customers and growing your WordPress Powered business!
Your 1 Click Away
More Traffic - More Sales
Pick Out the WordPress Marketing Map  you want to use on your site and we'll implement the right tactics and strategies on your site using the Best WordPress Plugins and Themes.
MEMBERSHIP SITES
Integrate Shopping Carts and Automate Recurring Income Memberships Sites
CREATE & SELL COURSES
Setup your own Campus with a Learning Management System to sell courses online.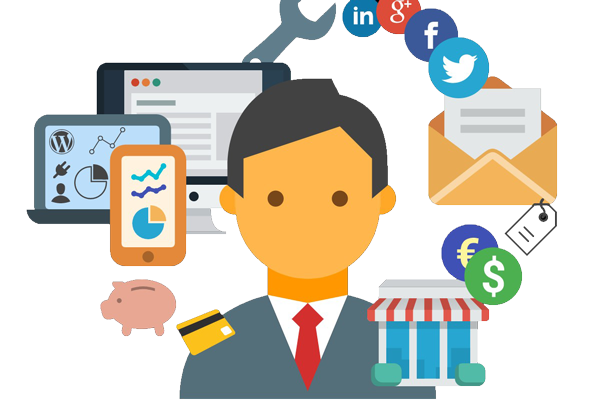 SOCIAL MEDIA TRAFFIC
Connect Your WordPress Blog and Automatically Post to Social Networks
LEAD PAGES & MAGNETS
Add Autoresponder Forms and Lead Capture pages to Your Site
There are 12 key maintenance tasks we take care of for you.  This is the under the hood techy stuff that every blog owner should be doing... but often doesn't have time for ( or knows they should be done)   If you want some more details here's a quick snapshot.
Sure, if you already have marketing site that's fine, keep it the way it is and use your Campus to compliment your existing online marketing. It's ready to start selling your courses, just add your content and keep the marketing on your existing site.
If you already have a free Google Analytic s account you can add your site or even use our Free Tracking and analytic service, that displays all your traffic and results live and in realtime right within your WordPress Admin.
Again we've got you covered. We've included a built in PopUp Window that captures emails for you. You can use our Autoresponder service FullContact Email or if you have an existing email marketing service just add your code the PopUp.
Your Campus has built in links to all the major Social Media networks like Twitter, Facebook, Google+ Pinterest and LinkedIN. Add your additional sites with your own links and plugins.
Your Campus has built in links to all the major Social Media networks like Twitter, Facebook, Google+ Pinterest and LinkedIN. Add your additional sites with your own links and plugins.
We Make WordPress and Selling Online Courses Easy – Nothing Beats Experience! Our CEO James Maduk wrote the book literally when it comes to Blogging way back in 2001 before WordPress existed. He's an online veteran Author, Speaker and Training who's personally created 62 Courses and over 1000 Online Video Tutorials! All that experience is available to you in our Courses, Webinars and Support Calls.
Sure! Add additional WordPress plugins and themes. Better yet supplement your Course Sales with traditional Blogging activities. Post as often as you want, include advertisements and affiliate links, create a monthly podcast and build your email list with Landing Pages. If all those word are too advanced for you don't worry, that's what we teach in our Blueprint course. (WPGrow.com)
Every Campus is SEO Optimized. Manage, Test and Optimize each post. Use the SEO Optimization features to automatically create sitemaps, SEO friendly page URL's and links. Your content including pictures and links will all have the right keywords focused on your market and posted so Google and the other Search Engines love your site.
Yes it's built in. Plus you can set various levels that "Drip" courses, lesson and lesson topics on a monthly basis for your subscribers.
The bare minium to get started is the Standard "PayPal" account. Out of the Box 2Checkout will also work and a ton of other popular payment gateways are available depending on the way you want to charge for memberships. Let us know what payment gateways you are currently using when you sign up and we can confirm that we'll be able to integrate one of the non-standard payment methods.
Our Pricing and Plans are available on the Pricing Page. Click Here
Just Want a WordPress Expert To Take Care Of Your Site?
Get Unlimited WordPress Support and small jobs from only $77 a month
To chat with James and the rest of the WordPress Blog support team use the live chat request below.
70 Bongard Avenue, Ottawa, ON K2E 7Z9
Don't hestiate to ask us something. Email us directly info@wpblogsupport.com
Fill the form to contact the team. If this is a question about Billing or Support of any kind please talk to us via chat below or login to the members area to get help with your account